Finally the pattern is released –  Diamonds and Waves!
Diamonds and Waves is a classical triangular wrap. It is started on the bottom tip and knitted bottom up. The patterning uses elements of Swing-Knitting™. It is completely symmetrical.
The wrap can be knitted in two variations:
• as a right-angled triangle with a straight upper edge
• as a right-angled triangle with a curved upper edge that shaped a neckline.

The pattern is written in two versions:
• as row by row instructions
• as instructions for Swing-Knitters™
All elements of general knitting technique that might not be known by everyone, are explained in detail with step photos in the technical appendix.
The pattern is divided into 4 parts:
A. General explanations and instructions
B. Row by row instructions for the wrap
C. Instructions for Swing-Knitters™
D. Technical Appendix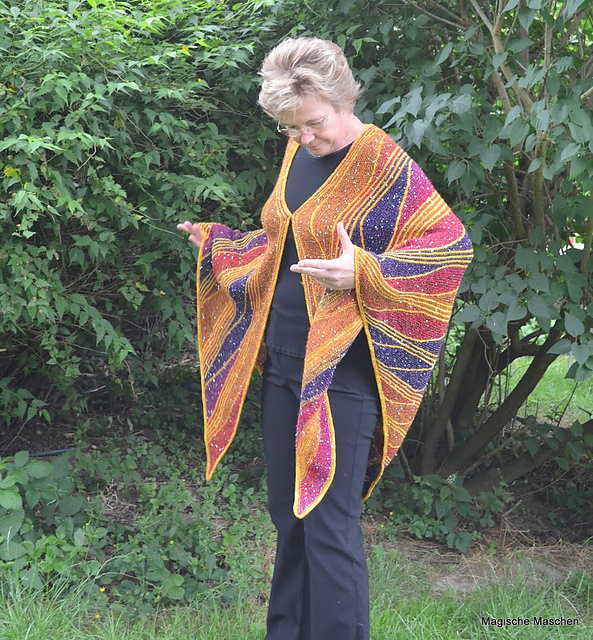 The wrap is knitted with 2 different yarns. The fabric is stretched a lot because of the diamonds, therefore the wrap has to be blocked. Please take care to choose yarns that can be easily blocked!
The yarn for pauses should be slightly larger than the yarn for stanzas. The pauses surround the short row elements and keep them to shape.
My Diamonds and Waves uses these yarns:
Yarn for stanzas: 2 x 100 g Schoppel Laceball (75% wool, 25% polyamide, 800m/ 100g), color 1536 "Fuchsienbeet",
held together with 4 x 25 g Lanartus Galaxy (100% polyester, 340m/25g), color 102.
I used up: 185 g Laceball held together with 100 g Galaxy
Yarn for pauses:
2 x 100 g plant hand dyed 4ply sock yarn (basic yarn Schoppel Boots, 44% wool, 42% cotton, 14% polyamide, 400m/100g), dyed by Marion Kade
I used up: 150 g
The complete wrap is approx. 260 cm wide and 125 cm deep in the middle tip. The wrap is subdivided into several parts, so it can be made smaller easily.