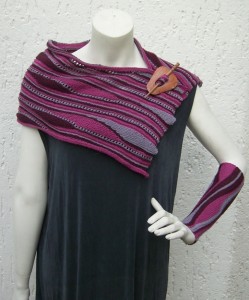 I know – I promised to try to publish Workshop 3 by the end of last year. I'm so sorry I had to disappoint you, really.
But one of my test knitters let me down, and I had to search for a new advanced knitter to test knit: One of my test knitters always is a beginner, the other one an advanced knitter in different techniques like lace or colorwork. Both have different questions – and then I try to answer all their questions in the workshop before publishing it.
And my experiences with the German version (published on Jan 13th) told me that I too had to knit the shawl again to give you the safety pin positions after every stanza – it won't take long now, we are already translating and knitting the finale!