St Nicholas Evening, this is a Holiday in Germany. Children place their boots on the doormat, and St Nicholas drives along the streets in the evening and fills these boots with sweets and little presents. With him goes his helper Knecht Ruprecht with a birch to spank naughty children – I am sure he won't have any work with you! Knitters are just nice and friendly people!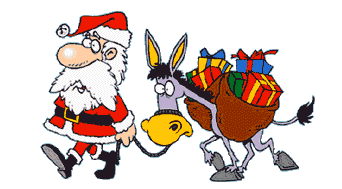 I have a little present for your knitting boot – the PHOENIX SHAWL. This one is not swing-knitted™, everyone will be able to knit it.
Our Ravelry group will be 2 years old this month, so it's time for a little birthday present for all who help to make this group so wonderful and lively – and to all who watch us and our Swing-Knitting™ and did not try yet.
We hope to be ready with translating the SWINGY PHOENIX by this weekend – Nada is working very hard in it. The Swing-Knitting™ Workshop 7 will finally go online then, both in German and English, containing exciting new Swing-Knitting™ elements.
I wish you a nice cuddly woolly St Nicholas Evening!